Such freaky weather! The week started with -14 degrees but feeling like -40 with the wind chill and ended with 55 degrees just 7 days later. Ups and downs are pretty typical here and they usually average out to what would be a normal temp but even the 55 couldn't average -14 to normal. Talk about climate change!
Lots of schools and businesses had already announced they'd be closed on Monday but as usual, UNL was not closed and sent us an email saying as much on Sunday night. So I set my alarm and got up on Monday but just couldn't face going outside. I kept going through the motions but when I got into a fresh nightie after my shower, any chance of going to work was over. I sent an email saying I was taking a vacation day (gotta love working in higher ed.) I hadn't slept well because Pie, my former feral cat, hadn't come in overnight so I'd been up several times during the night to call her but wasn't too worried because she's street smart. She came in first thing so I kept all the cats inside and settled in for a nice day at home.
It was a good day to cook and despite the cold, the sun was shining so I was comfy in my back room, knitting in the sun while the furnace cranked full bore all day. I made ruggelach and sugar cookies to take to knitting and tetrazzini, which I split so I could drop some for Donna, who'd had surgery on her hand. When I drove that over at 5:30, that was the first I'd been out of the house. It wasn't as bad out by then – still cold but the wind had died down so it was tolerable. I ate some tetrazzini and Brussels sprouts then headed back to pick up Donna for knitting at the library. We were doing our secret santa swap so almost everyone brought treats. We had fun opening our gifts and I got the book Think Outside the Sox from Lori, which was totally fun to peruse and is full of fabulous sock patterns.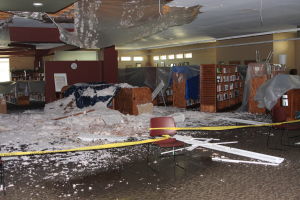 Alas, it was back to work on Tuesday. It was still cold but not as bad and my car started (I'd been concerned with my battery, which is the original one and my car's a 2007.) I brought my lunch so I wouldn't have to go out and the day was fine. Mid-afternoon I got an email that a pipe had burst in the ceiling of the library causing lots of damage including bringing down the ceiling. My beloved library would be closed for a long time. And it happened just as the cold was easing. By the end of the day it was much warmer. Damn weather!
There was no swimming this week so I went straight home every night, which felt decadent. I can't say I got much done but then came Thursday. Andrea had emailed me with a unique dyeing idea that afternoon and I couldn't wait to get home and try it. For those who care, the idea was to make I-cord and then dye it, which would result in longer color changes when the I-cord was pulled apart and knitted. I spend nearly 2 hours running sock yarn through my I-cord maker then got busy dyeing. I was still in the nuking phase after 9:00 so had to leave the yarn cooling in the water when I went to bed. This meant it wouldn't be dry enough to cast on on Friday night. Crap.
Layton and I did Chinese food for lunch so I could pop into HyVee afterwards to pick up a few things, which meant I could go right home at 5:00. As I suspected, the yarn, which I'd hung over the sink to dry, wasn't so I hung it over a heat vent so it'd be sure to dry completely overnight. I had my pattern picked out and couldn't wait. I slept late Saturday (after 7:00!) but had cast on within minutes of finishing breakfast. I'd achieved the long color changes but the dye didn't completely saturate so it was mottled. I'll have to try this again but soak the yarn longer before dyeing it, which may or may not work. Anyway, I picked up the house in the morning and Andrea picked me up at 1:00 for an Omaha run.
The reason for a Saturday run was to hit Personal Threads for their 20% everything customer appreciation sale. While I didn't need any yarn, I knew I'd leave with some. Some? Jeez. I spent $135 and came back with a ton of fun yarn. I had to deploy my justification mantra – I don't drink, I don't smoke, I don't do drugs….. I buy yarn! It's all good. Then we hit Goodwill (dropped off 2 bags), Penzey's for a gift box for some of the freebie spices I've gotten for a Wine & Dine door prize, Trader Joe's (that was unplanned) then our final stop at Aldi. I wanted to pop into Big Lots next door but was dismayed to see they're closing that one. Bummer. Anyway, by the time I got home and put all the groceries away, it was after 7:00 so I was done for the day.
Did I mention that it was in the 50's by the weekend? I started Sunday stripping my bed so I could hang out my sheets and while I was at it, I took the bed apart because the guys hadn't put it together right after my floors last spring so I cleaned underneath it, reassembled it and spun the mattress. Between all that and fresh off the lines sheets, I was looking forward to going to bedtime. I should have been doing chores but spent most of the day knitting. Go figure. I did get all my laundry done and hung out on the line so that was something but my sink was still full of dirty pots and pans when I went to bed. Oh well. Since swimming will be starting up again, they'll probably sit there awhile. Life goes on. At least it'll be warmer this week (40's for highs) and will really be back to normal. I'll have to take some precautions with my hands. Stay tuned.